I've been extremely lax in posting about this, partly because I've barely had time to breathe lately, but tonight, at 7:00 EST, you can chat with me (yes, ME!) about my fics. It's all a part of the Gilmore Girls Fanfic Chat-a-thon, which I'm sure you all know about by now, but I figured I'd pimp myself out anyway.
So, any burning questions for me about my writing? Or, you know, you can ask me other questions too. Since my life has been consumed by VS, I haven't been doing very much writing of my own, so I'm sure you won't have much to ask me about that. So, yeah, tonight, 7:00EST, or 4:00 my time, come chat with me. I'm a fun chatter, I promise. Find out all about it
here
at our community
ggfanficchat
!
And, while you are over there, it's a prime opportunity to bid on your favorite fanfic authors at the Support Stacie Author Auction! I am not on the auction block this time around, but many of my fabulous friends are, and it's all for
truelovepooh
, who I love very very much. Click on the picture to get to the auction and you better not outbid me...I'm kidding...Kinda...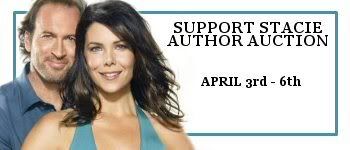 Current Mood:

chipper
Current Music: "If Looks Could Kill"--Camera Obscura